1.Types: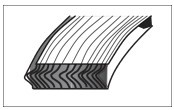 Basic Style Spiral Wound Gaskets(SWG 600-R)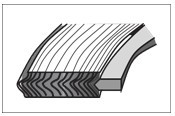 Spiral Wound Gaskets With Inner Ring(SWG 600-IR)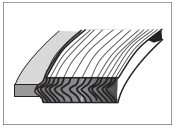 Spiral Wound Gaskets With Outer Ring(SWG 600-CG)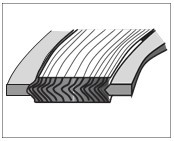 Spiral Wound Gaskets With Inner & Outer Rings(SWG 600-CGI)
2.Description:
Spiral wound gaskets have the ability to recover under the action of fluctuating loads caused by process fluid pressure and temperature changes,flange face temperature variations,flange rotation,bolt stress relaxation and creep.
The gasket-sealing element consists of a preformed metallic winding strip with layers of a softer,more compressible sealing materials which during compression,is densified and flows to fill imperfections in the flange surfaces when the gasket is seated.The metal strip holds the filler giving the gasket medicinical resistance and resilience.
Outer guide rings are fitted to centralize the gasket between the bolts and to act as a compression limiter.Inner ring are fitting to reduce the gap between the inside diameter of the gasket and the bore of the flange.This reduces turbulence,erosion damage and protects the gasket sealing element from the contained media,
Inner and outer rings are manufactured from a variety of metals to suit particular applications.
3.Technical data:
a. Standard:ASME ,BS ,JIS and EN standards or client request;
b. Usually,metal ring adopts 0.15~0.25mm cold rolled stainless steel strip;
c. The surface of the metal strip is smooth and clean,roughness, cracks, scratches, pits and rust spots are not allowed;
d. Usually,non-metallic materials adopts 0.3~1.0mm soft material;
2. Marking method: